Pharmacy professor is named a fellow of the National Academy of Inventors
---
LAWRENCE — The National Academy of Inventors (NAI) has again named a University of Kansas professor as an NAI Fellow, one of the highest honors for an academic inventor.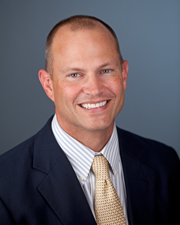 Cory Berkland, Solon E. Summerfield Distinguished Professor in the departments of Pharmaceutical Chemistry and Chemical & Petroleum Engineering, is the fourth KU professor to earn the honor.
"Professor Berkland is truly one of the stars among KU's faculty who advance their technologies into the marketplace and benefit society," said Julie Nagel, associate vice chancellor for innovation & entrepreneurship and president of KU Innovation & Collaboration. "We are proud of his many accomplishments, including this latest recognition for his work."
Berkland is one of 155 distinguished academic inventors across the country to receive the honor in 2017. Raghunath Chaudhari, the Deane E. Ackers Distinguished Professor of Chemical & Petroleum Engineering, received the honor in 2016. The year before, Val Stella, distinguished professor emeritus in the Department of Pharmaceutical Chemistry, and Bala Subramaniam, the Dan F. Servey Distinguished Professor in the Department of Chemical & Petroleum Engineering, became KU's first NAI fellows.
Berkland joined KU in 2004, and his research blends engineering and biological sciences. As biotechnology improves methods for processes like tissue regeneration and effectively delivering therapeutic agents in the body, Berkland leads a team that develops precision engineering technologies at the macro to molecular scale for new or improved biomedical and drug delivery devices.
Berkland is a co-founder of Orbis Biosciences, Savara Pharmaceuticals, Orion BioScience and Bond Biosciences. He is also a co-developer of several technologies with industrial partners such as ConocoPhillips. Berkland has worked at a venture capital firm, Sofinnova Ventures, as an entrepreneur-in-residence and has served on multiple boards in the pharmaceutical industry.
Election to NAI Fellow is the highest professional accolade bestowed solely to academic inventors who have demonstrated a prolific spirit of innovation in creating or facilitating outstanding inventions that have had a tangible effect on quality of life, economic development and welfare of society.
With the election of the 2017 class, there are now 912 NAI Fellows, representing more than 250 research universities and governmental and nonprofit research institutes. The 2017 fellows are named inventors on nearly 6,000 issued U.S. patents, bringing the collective patents held by all NAI Fellows to more than 32,000 issued U.S. patents.
On April 5, 2018, the 2017 NAI Fellows will be inducted as part of the Seventh Annual NAI Conference of the National Academy of Inventors at the Mayflower Hotel, Autograph Collection in Washington, D.C.
The 2017 NAI Fellows will be highlighted with a full-page announcement in a January edition of The Chronicle of Higher Education.
Updated on: 12/12/2017