Hyunjoon Kim
---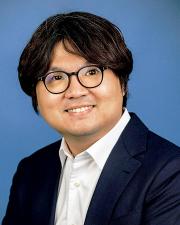 Department of Pharmaceutical Chemistry
Contact Info
Simons 158
2093 Constant Ave.
Lawrence, KS 66047
---
Education
—
Postdoctoral Associate in Immunoengineering, MIT, 2022, Cambridge, MA
Ph.D. in Pharmaceutics, University of Minnesota, 2018, Minneapolis, MN
M.Pharm in Pharmacy, Kyungsung University, 2011, Busan, South Korea
B.Pharm in Pharmacy, Kyungsung University, 2009, Busan, South Korea
Research
—
Kim Lab's long-term research goal is to develop translational drug delivery platforms that can make a positive impact in the field of biopharmaceutics and immunotherapy. While small molecules continue to dominate the overall pharmaceutical marketplace, there is an increased emphasis on the discovery and development of biopharmaceuticals including nucleic acids, proteins, and cell-based therapeutics. Unfortunately, these agents are prone to degradation and are challenging to manufacture with consistency and reproducibility. More importantly, such therapies require specialized delivery systems to ensure stability during storage and administration and that they reach the intended target tissues effectively. Hence, a key challenge is to develop formulations and platforms for efficient in vivo delivery of biopharmaceuticals. With expertise and experience in developing nano/microparticle formulations for biologics/small molecules and in vivo/in vitro immune characterization skills, Kim Lab will establish an interdisciplinary research group to address these important challenges.
Research Interests
Fabricating drug delivery platforms (nano/microparticles, scaffold, devices) for targeted delivery of payloads (small molecules, nucleic acids, vaccines).
Engineering biomaterials to modulate the immune system and inflammation.
High-throughput screen assay development to identify molecules for therapeutic, targeting, and diagnostic purposes.
Immunotherapy application in disease models (cancer, inflammatory bowel disease, diabetes, etc) using rodent and pig models
Selected Publications
—
Kim, H., Khanna, V., Kucaba, T. A., Zhang, W., Sehgal, D., Ferguson, D. M., Griffith, T. S., & Panyam, J. (2020). TLR7/8 Agonist Loaded Nanoparticles Augment NK Cell-mediated Antibody-based Cancer Immunotherapy. Molecular pharmaceutics 17(6) 2109-2124.
Kim, H., Khanna, V., Kucaba, T. A., Zhang, W., Ferguson, D. M., Griffith, T. S., & Panyam, J. (2019). Combination of sunitinib and PD-L1 blockade enhances anticancer efficacy of TLR7/8 agonist-based nanovaccine. Molecular pharmaceutics 16(3) 1200-1210.
Kim, H., Sehgal, D., Kucaba, T. A., Ferguson, D. M., Griffith, T. S., & Panyam, J. (2018). Acidic pH-responsive polymer nanoparticles as TLR7/8 agonist delivery platform for cancer immunotherapy. Nanoscale, 10(44), 20851-20862.
Kim, H., Niu, L., Larson, P., Kucaba, T. A., Murphy, K. A., James, B. R., ... & Panyam, J. (2018). Polymeric nanoparticles encapsulating novel TLR7/8 agonists as immunostimulatory adjuvants for enhanced cancer immunotherapy. Biomaterials, 164, 38-53.
Kim, H., Lee, S. H., Wentworth, A., Babaee, S., Wong, K., Collins, J. E., ... & Traverso, G. (2022). Biodegradable ring-shaped implantable device for intravesical therapy of bladder disorders. Biomaterials, 121703. (Kim, H and Lee, S.H contributed equally)