Michael Hageman
---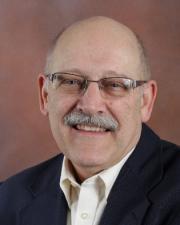 Valentino J. Stella Distinguished Professor
Director Biopharmaceutical Innovation & Optimization Center
Department of Pharmaceutical Chemistry
Contact Info
Simons, Room 274
2093 Constant Avenue
Lawrence, KS 66047
---
Biography
—
Prior to joining KU's Department of Pharmaceutical Chemistry, Hageman spent more than 30 years in the pharmaceutical industry. He has extensive experience in physicochemical characterization and preclinical assessment of new chemical entities (NCE), including proteins, peptides, oligonucleotides, protein drug conjugates, prodrugs and other small molecule based therapeutics.
He has been directly involved in the discovery process with chemical lead selection, chemical lead optimization and drug candidate selection for transition into clinical development. Those pre-clinical experiences include drug delivery research for both parenteral and oral dosage form design, with particular emphasis on designing specialized formulation strategies to overcome poor drug stability and poor aqueous solubility and the ultimate goal of enhancing developability and commercialization.
Hageman also has extensive experience and resulting patents on the generation of solublilzed dosage forms for administration, parenteral and oral, of both immediate-release and controlled-release dosage forms. Similarly, critical experience in factors which influence processing technologies, such as lyophilization and spray drying for both biologics and small molecule NCE, provides a window to later phase manufacturing challenges.
In depth lab work uses a materials-characterization approach to understanding the fundamental role of both physicochemical and physicomechanical properties in both the chemical and physical stability within these amorphous systems, which dictate the resulting bioperformance of these systems.
He has expertise at understanding the role of polymers and excipients in both the dissolution behaviour of these solid dispersion systems and their ability to produce and maintain supersaturated drug concentrations to enhance oral absorption. 
Professional Experience
Scientist I, Pharmacy Research, Veterinary Biologics, Upjohn Co., Kalamazoo, MI (1985-1987)
Scientist II, Drug Delivery R&D, Human and Veterinary, Upjohn Co., Kalamazoo, MI (1987-1990)
Senior Research Scientist III, Solubilized Formulation Design, Upjohn Co., Kalamazoo, MI (1991-1996)
Senior Scientist/Group Leader, Exploratory Formulations, Pharmacia & Upjohn, Kalamazoo, MI (1996-1999)
Senior Fellow/Group Leader, Global Pharmaceutical Sciences Exploratory Formulations, Pharmacia Co., Kalamazoo, MI (1999-2003)
Head Global Workstream for Cross-division Re-engineering of Biological Target Selection to First in Human Process, Pharmacia Co., Kalamazoo, MI (2002-2004)
Sr. Res. Fellow/Group Leader, Exploratory Formulations, Pfizer Global R&D, Kalamazoo, MI, (2003-2005)
Chair of Michigan Cross-Divisional Pharmaceutical Sciences Technology Group, Pfizer Global R&D, Kalamazoo & Ann Arbor, MI (2004-2005)
Group Director, Discovery Pharmaceutics, Bristol-Myers Squibb, Princeton, NJ (2005-2013)
Pharmaceutical Candidate Optimization Site Lead, Bristol-Myers Squibb, Princeton, NJ (2007-2010)
Global Matrix Team Head, Biochemical & Biophysical Characterization Network for Biologics, Bristol-Myers Squibb, Princeton, NJ (2012-2016)
Executive Director, Pharmaceutical Candidate Optimization, Discovery Pharmaceutics, Bristol-Myers Squibb, Princeton, NJ (2013-2016)
Valentino J. Stella Distinguished Professor, Department of Pharmaceutical Chemistry, University of Kansas, Lawrence, KS (2017-Present)
Education
—
Ph.D. in Pharmaceutical Chemistry, University of Kansas, Lawrence, KS
M.S. in Pharmaceutical Chemistry, University of Kansas, Lawrence, KS
B.S. in Pharmacy, University of Kansas, Lawrence, KS
Selected Publications
—
Selected Publications
Representative Publications
Representative Publications (NCBI)
Editorial Activities
Editor for the Journal of Pharmaceutical Sciences
(Editorial Board Here)
Prodrugs
Challenges and Rewards
Editors: Stella, V., Borchardt, R., Hageman, M., Oliyai, R., Maag, H., Tilley, J. (Eds.)
Optimizing the "Drug-Like" Properties of Leads in Drug Discovery
Editors: Borchardt, R., Kerns, E., Hageman, M., Thakker, D., Stevens, J. (Eds.)