Anna Hagen
---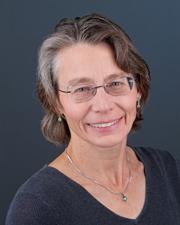 Education Program Coordinator
Lecturer
Department of Pharmaceutical Chemistry
Contact Info
School of Pharmacy, Room 3045-C
2010 Becker Drive
Lawrence, KS 66047
---
Biography
—
Anna Hagen began teaching at the KU School of Pharmacy in 2010. She also prepared exhibits for the Pharmacy Museum in the School of Pharmacy in 2010.
Previously, Dr. Hagen worked in the pharmaceutical industry for more than 20 years, of which about 15 were spent writing and editing a range of documents and preparing scientific presentations. Examples of her work include slides and talking points on topics such as major disease areas, drug mechanisms of action and clinical trial results for both internal and public meetings. In addition, Dr. Hagen prepared chemistry, manufacturing and controls sections of regulatory documents (marketing applications and INDs), describing vaccine development and manufacturing. These filings contributed to worldwide regulatory approval of four new vaccines. She also recruited, trained and mentored a high-quality group of scientists to write, edit and assemble these regulatory documents. 
Overall, Dr. Hagen has been teaching and helping professionals and students to write well and to give effective oral presentations for many years. She continues to explore new ways to teach writing, slide design and communication in science.
Education
—
Ph.D. in Biochemical Engineering, Massachusetts Institute of Technology, 1989, Cambridge, MA
B.A.Sc. Chemical Engineering, University of Ottawa, 1984, Ottawa, Canada
B.Sc. Biochemistry, University of Ottawa, 1981, Ottawa, Canada
Teaching
—
Courses Taught
Writing and Communicating Science for Graduate Students (Department of Pharmaceutical Chemistry)
Scientific Writing for the Health Professional (Pharm.D. Program)
Oral Presentations for the Health Professional(Pharm.D. Program)