KU Alumnus pledges $1 million to support father's legacy in School of Pharmacy
---
LAWRENCE — Family and the University of Kansas hold special places in physician and KU alumnus Jeff Lindenbaum's heart.
His late father, Siegfried Lindenbaum, was a faculty member in the School of Pharmacy for more than 20 years. Jeff Lindenbaum met his wife, Joan Sorenson, when they were basketball-loving undergraduates at KU.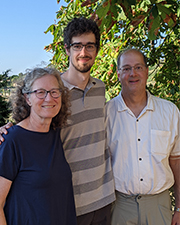 Those strong ties led Lindenbaum and Sorenson, of Billings, Montana, to make a gift commitment of $1 million to expand the Siegfried Lindenbaum Memorial Scholarship, which supports graduate students in the Department of Pharmaceutical Chemistry at KU's School of Pharmacy. 
"I can't think of anything more important than to provide for the education of those people who are going to be taking care of us and defining society in the future," Lindenbaum said. "And it would have been important to my father, too."
Siegfried Lindenbaum was an orphan and a war refugee. His parents made the heartbreaking decision to send him and his younger brother to England as part of the organized Kindertransport effort that rescued children from Nazi-controlled countries in the months leading up to World War II. The brothers were the only members of the immediate family to survive. 
An aunt and uncle eventually brought him and his brother to their chicken farm in New Jersey. He was studious and attended Rutgers University for his undergraduate and graduate degrees, then went to work for the Oak Ridge National Laboratory in Tennessee. In 1970, he was offered a teaching position at KU, which he held until his death in 1993. 
Jeff Lindenbaum said his father, who experienced trauma and displacement in his childhood, never felt like he belonged anywhere. But he did feel a connection to Kansas.  
"Kansas was a big part of his life, and that's part of why the decision to make this gift was easy for me, because it was part of my life, too," he said. "Dad was passionate about research and teaching, and this gift honors both of those passions."
Both Jeff Lindenbaum and Joan Sorenson credit their success at prestigious East Coast medical schools to their undergraduate educations at KU. He is a radiologist, and his wife is a pediatrician. 
"KU gave me incredible teachers and experiences and helped launch me into medical school and residency. And I was on equal footing with everyone else who went to a private school," Lindenbaum said. "My wife and I both got our start at KU, and it gave us the foundation we needed to succeed."
That success has meant they are able to make a gift commitment using their retirement account. Lindenbaum made KU Endowment a beneficiary of his IRA, which allows him and his wife to leave a legacy to KU while maintaining their own resources during their lifetimes. 
Ronald Ragan, dean of the KU School of Pharmacy, said the pledge provides the opportunity that many students need to get through graduate school and go out to make a difference in the health of Kansas, the nation and the world.
"I'm so pleased that Dr. Lindenbaum and Dr. Sorenson understand how important it is to support our graduate students. Planned gifts like theirs make a life-changing difference," Ragan said. "We're grateful for their forethought and generosity and hope it will inspire others to consider a planned gift of their own."
Lindenbaum emphasized the importance of pharmaceutical chemistry, especially in the time of COVID-19, and he found it satisfying to support students in the field. 
"To know that we, in some small way, are helping enable students from all over the world to come and do their work without worrying about where their next meal will come from or how they're going to make that tuition payment — that's really important, and I feel pretty good about that."
Waleed Elballa, a graduate student in pharmaceutical chemistry and a native of Sudan, is a recipient of the Lindenbaum Scholarship. Financial issues are among the biggest challenges for international students, he said, and he is grateful to the Lindenbaum family for the support. 
"The Lindenbaum Scholarship has shown me that I am appreciated not only as a graduate student but as an international student, and that has pushed me to work harder toward my goals," Elballa said. "And it relieved me from worrying about how to pay for classes and allowed me to focus on my research."
Siegfried Lindenbaum's widow, Loraine, an active member of KU's Endacott Society until her death in 2019, developed connections with many of the scholarship recipients. Her hospitality and interest in their work helped to provide a sense of belonging, particularly for those international students who were far from home.
Lindenbaum knows his gift will help KU maintain its level of excellence as well as help smart students who might have faced disadvantages or adversity, much like his father.  
"I'm pleased to be leaving something that will be meaningful even if nobody remembers me or my dad," Lindenbaum said. "It's good to know that some of the money that I've been successful in accumulating is going to go to something good in the future."
KU Endowment is the independent, nonprofit organization serving as the official fundraising and fund-management organization for KU. Founded in 1891, KU Endowment was the first foundation of its kind at a U.S. public university.
Photo: Joan Sorenson, Jeff Lindenbaum and their son, David (center).